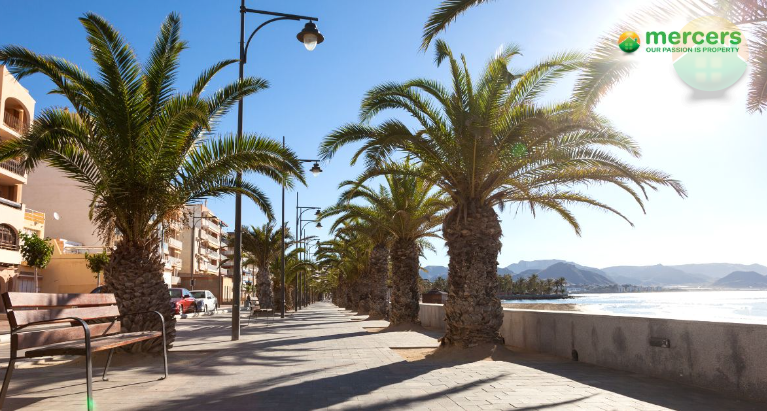 Where Is Mazarrón Located In Spain?
If you're planning on moving to Spain, Mazarrón is one of the most affordable and picturesque regions going - but where is Mazarrón in Spain, and what is so special about the area? 
If you're familiar with the various provinces in Spain, you have likely heard of the Region of Murcia, a beautiful area in the Southeast. Steeped in history and bordering the Mediterranean Sea. One of Murcia's most well-known attractions is the City Of Murcia itself, a bustling site of activity and real Spanish culture all surrounding the fantastic sight of  The Cathedral Church of Saint Mary dating back to 1465.
Venture just outside of the city, however, and you will find a series of smaller municipalities, each with their own unique charms and characteristics, and few as charming as Mazarron. Find out more in this guide to where Mazarrón is in Spain.
Locating Mazarrón in Spain
Mazarrón is located in Murcia's Southern region and is bordered by a series of pleasant towns, including Alhama de Murcia, Cartagena and Fuente Alamo. The most southern side of Mazarron is bordered by the rolling waves of the Mediterranean Sea. 
Mazarrón is more than just the sum of its parts, and is made up of a selection of 13 towns and villages, each boasting a unique cultural experience. Quaint villages such as La Azohia and Isla Plana allow for an authentic Spanish experience, and the desirable fishing town of Bolnuevo is known for its unique points of natural beauty. 
The closest airports to Mazarrón are Corvera airport( Murcia International Airport RMU)  and Alicante (ALC), with the former being closer than the latter. Additionally, Mazarrón also boasts a range of buses and taxi services that make it easy to travel to and from the area in various parts of Spain. 
The History of Mazarrón
Marked points of history in Mazarrón date back thousands of years to the Middle Palaeolithic period, with architectural remains of civilisation found beside the Lighthouse Dike and in various caves around the area. 
Throughout the following centuries, Mazarrón faced conflict and was conquered by several significant groups as a result of its wealth due to mining. For example, the Romans took ownership over Cartagena in 209AD and the Southeast was ultimately under Roman control as a result. Several Roman statues still exist in the Region to this day. 
Flash forward to 1572, and, at the hands of King Philip, Mazarrón begins its era as a municipality - an era which has lasted to this day. Unfortunately, the 1500s was also a great period of territorial insecurity. 
Despite Mazarrón´s status and economic rise, the region started to face attacks from pirates, which led to the development of towers such as The Velez Castle in the Bay of Mazarrón, which has been designated a Site of Cultural Interest in recent years.
The prevalence of mining in Mazarrón continued for many years, and its peak in the 1800s allowed the multiplicity to flourish, with the introduction of more important buildings, a larger amount of immigration, hospitals and a series of investments. It was around this time that fishing also took on an importance in Mazarrón, and this continues today - Mazarrón is known as one of the best fishing spots in the area. 
Mazarrón Today
Today, Mazarrón is a thriving area in the Murcia Region that has changed with the times without losing touch with its historical roots. 
As a major agricultural town, Mazarrón is home to a selection of naturally-grown fruits and vegetables. You can also witness stunning mountainous regions and beautiful forests, all of which make Mazarrón the perfect place to live if you are looking to get in touch with nature and the authentic Spanish lifestyle. 
Mazarrón´s 35 kilometres of largely virgin coastlines set the multiplicity apart from many others. The series of both commercial and natural beaches make the spot where Mazarrón is in Spain a site to behold, and the warm, crystal-clear waters are usually populated with scuba-divers, swimmers and, of course, fishing enthusiasts. 
The scenery of Mazarrón is the perfect combination of the old and the new, with modern, cultural bars and restaurants serving a delicious selection of healthy Mediterranean cuisine. Simultaneously, many historical sites have been preserved and are open to the public, including the Old Alum Factory, a series of abandoned mines and the beautiful San Andreas Church. 
Moving to Mazarrón in Spain
Mazarron is one of the more affordable places to live in Spain, with long-term properties available to fit most budgets. 
Mercers are the number one estate agent in the Murcia Region with a passion for helping relocators find their perfect home on the Costa Calida. If you're interested in moving to Mazarron, don't hesitate to get in touch with our friendly and professional team. 
---
FEATURED PROPERTIES
We have Properties in these Areas View a list of Featured Properties.