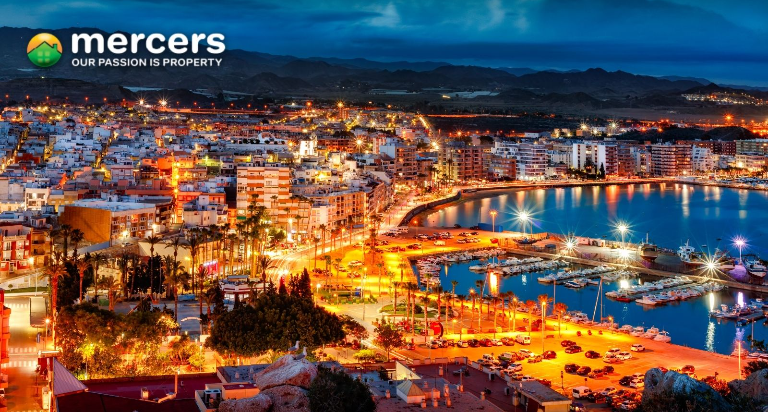 Where Is Costa Calida In Spain?
There's a good reason why Spain is one of Europe's most popular destinations for tourists and expats alike, and the beautiful coastline region of Costa Calida is no exception. But where is Costa Calida in Spain exactly, and what makes it one of the country's most desirable locations? 
Costa Calida is located in the Murcia region, in the sunny south-east, found in between Valencia, Andalusia and Castile La Mancha. Murcia is made up of several districts and 45 towns, governed by it's capital, Murcia City, a spot that has seen a recent influx of expats as a result of it's cheap prices, cultural beauty and excellent lifestyle. Murcia is the perfect escapist region, replacing the hustle and bustle of day-to-day life with Mediterranean temperatures, healthy food and rolling countryside views. 
One of the Murcia region's biggest draws is Costa Calida's 250 km stretch of breathtaking coastline. In fact, Costa Calida's name itself means 'Warm Coast', due to the unusually warm temperatures of the water that surrounds the soft, sandy beaches. With a yearly average temperature of 18 degrees Celsius and a low amount of rainfall, there's no wonder why Costa Calida gets such high praise from locals and relocators. 
What are Costa Calida's best bits? 
 
Now that we've established where Costa Calida is in Spain, let's take a look at some of the things that make this spot so special. 
The seven exotic beaches of Costa Calida are undoubtedly one of the area's biggest draws: Levante, Bolnuevo, Calabardina, La Azohia, Isla Plana, Calblanque and Las Palmeras. Each beach is unique in it's own way, and there's something to suit everyone. For example, the beautiful La Azohia, an old fishing village, has been largely untouched by tourism and retains all of its quaint and peaceful Spanish charm. In contrast, Calabardina is a popular hub of activity and perfect if you prefer a lively beach environment. 
If you're looking for something extraordinary, the beaches of Bolnuevo and Las Palmeras cannot be beaten. Bolnuevo beach is home to the Enchanted City of Bolnuevo, a set of ethereal natural sandstone formations that only add to the cultural charm of this traditional Spanish village. Sculpted by the elements over thousands of years, The Enchanted City of Bolnuevo is a spot of national interest, and a big draw for visitors and expats. 
The Mar Menor is a coastal strip of land almost entirely closed off from the Mediterranean Sea, creating an otherworldly saltwater lagoon that's the perfect spot for swimming, watersports or simply admiring whilst you relax on the sandy beach. All in all, Costa Calida is home to a selection of beaches, water and weather that is hard to rival. 
Beyond the beaches
Of course, Costa Calida is more than just swimming and sunbathing. In the region of Spain where Costa Calida is located, there are a whole range of exciting experiences to be had and otherworldly sights to be seen that will immerse you in the Spanish culture and help you to feel right at home. 
For example, you will find few places that boast as many picturesque coastal towns as Costa Calida. Explore the elongated promenade, colourful festivals and medieval markets of Los Alcazares and experience a town full to the brim with culture. Marvel at the opulent architecture in the City of Murcia and Cartagena, two locations that boast theatres and cathedrals like no other. For sports lovers, there is a range of golf courses dotted throughout and near Costa Calida; you can even purchase or rent properties in the golf resorts themselves! 
Finally, much like any spot in Spain, the buzzword is versatility. No matter where you are in Costa Calida, you won't be far from shops, restaurants, bars and beautiful sights galore, allowing for an all-encompassing experience. 
Does Costa Calida seem like a dream come true? 
 
Living in Costa Calida seems like a dream for many, but Mercers are here to make it a reality. We have a whole host of properties for sale in Costa Calida, ready to be viewed with the click of a button. 

If you're interested in relocating to the Murcia region, get in touch with Spain's most reputable estate agents today for a seamless and supportive property buying process.
---
FEATURED PROPERTIES
We have Properties in these Areas View a list of Featured Properties.