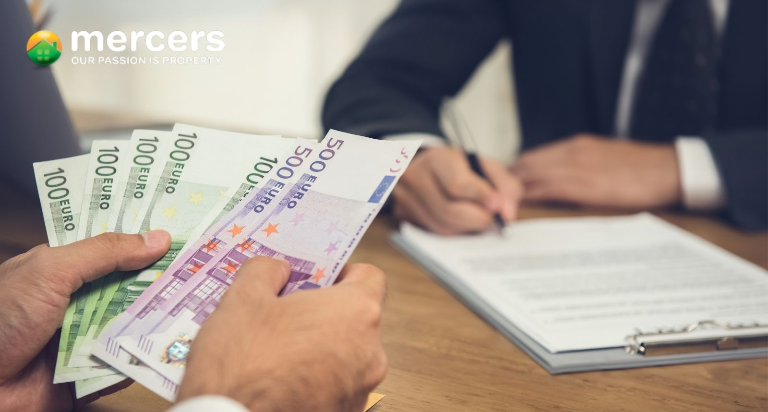 The Additional Costs When You're Buying A Property In Spain
If you're intrigued by the prospect of moving abroad, it is important to weigh up the additional costs when you're buying a property in Spain rather than just the price of purchase. 
You might be surprised to find that the additional costs tied to buying a property in Spain are quite different from those in the UK, which is why it's very important to be clued-up so you don't receive any nasty surprises down the line. Similarly, it is also important to take into consideration the cost of living, as this can also vary depending on the area in Spain that you decide to move to. 
To keep your property hunting process as stress-free as possible, we've compiled a list of a few of the additional costs you should consider when you're buying a property in Spain. 
Key costs & considerations
As well as the price of the property upfront, there are a host of additional costs involved when you buy a property in Spain. Some of these extra costs are the same regardless of property type, and some additional factors are included depending on whether you're buying a resale property or a newbuild. The general costs you will be expected to pay, regardless of property type, include:
Mortgage costs. You might need to pay an opening fee when you first take out your mortgage, which is generally 1% of the value of the property.

Notary fees. Hiring a notary usually costs 0.5-1% of the purchase fees. It is also highly recommended that you hire a lawyer. This fee can vary, but it is worth paying the small extra cost to make sure that you avoid any scams or loopholes. 

Banking costs. You will need to open a Spanish bank account when you purchase a property abroad, and it is important to take into consideration the cost of converting your currency. Opening the account and transferring the money across can also incur costs, so make sure you clear these with the relevant sources. 

Land registry. You will usually have to pay around 1% of the purchase price to the Spanish Land Registry.
There are also additional costs depending on whether the property you're interested in is a newbuild or a resale. 
If your chosen property is a newbuild, and this is the first time that the property has been sold on, then you'll be expected to pay VAT. The amount of VAT charged depends upon the type of property. Commercial properties and plots of land usually come with 21% VAT, whilst residential properties are slightly lower at 10%. The final charge is Spanish stamp duty, which is payable at a 1.2% rate. 
If you're buying a resale property, the costs are slightly different. Instead of VAT, you'll pay transfer tax. The cost of this is dependent on the price of the property, and usually comes to between 8-10% of the property price. Note that this additional cost needs to be paid to the Spanish Treasury within 30 days of signing the title deed after you buy your property in Spain. 
The cost of living
Spain is in the top three cheapest countries in Western Europe, making it a great choice if you're looking to relocate without breaking the bank. However, as with anywhere, the cost of living varies depending on your choice of region. 
The Balearic Islands - made up of Ibiza, Menorca and Mellora - are some of the more expensive places to live in Spain, whilst other regions, such as the Murcia region, are much cheaper. 
Choose a transparent estate agent
The best way to make sure that you don't miss any costs and stay 100% clued-in throughout the moving process is choosing a reliable and transparent estate agent. 

Mercers are the number one estate agent for properties in the Murcia region. We will make sure that you're aware of all of the additional costs when you're buying a property in Spain, and deal only in competitive pricing and complete honesty. For more information, get in touch today.
---
FEATURED PROPERTIES
We have Properties in these Areas View a list of Featured Properties.